Iranian Attack on U.S. at Al Asad
In January 2020, the Iranian Government's Islamic Revolutionary Guard Corps launched a missile attack on the Al Asad Air Base in Iraq in response to the U.S. killing of Qasem Soleimani, commander of the Quds Force ― a U.S.-designated terrorist group. U.S. service members who were wounded in the attack may qualify to seek compensation under a law aimed at punishing state sponsors of terror and making the victims whole.
The U.S. Anti-Terrorism Act give victims of international terrorism a path to sue in the civil courts. The suits have been brought against state sponsors of terrorism and the global banks that aid them.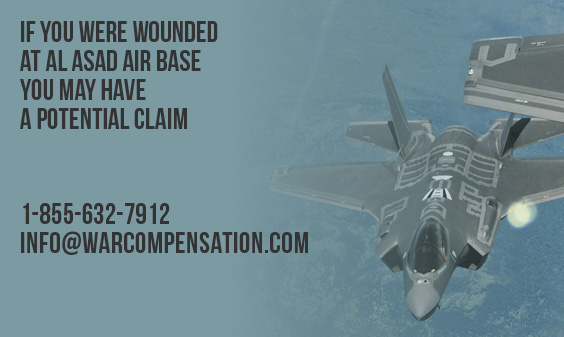 The Terrorist Attack
On January 8, 2020, Iran launched a ballistic missile attack against U.S. airfields and bases in Iraq. More than 20 missiles were launched targeting Al Asad Air Base, Erbil International Airfield, Camp Taji, and Camp Manion, Al Taqaddum.
The surface-to-surface missiles were launched after the United States killed the leader of the Quds Force, a branch of Iran's Islamic Revolutionary Guard Corps and a U.S.-designated foreign terrorist group whose tentacles include Hezbollah and myriad shadowy militant groups that attacked U.S. troops in Iraq. Commanding General Qasem Soleimani was killed in a drone strike at Baghdad's international airport on Jan. 3. Following the missile attack at Al Asad Air Base, the Islamic Revolutionary Guard Corps issued a statement: "The fierce revenge by the Revolutionary Guards has begun."
U.S. Law Seeks to Punish Financiers of Iranian Terrorist Attacks
The U.S. has classified Iran as a "state sponsor of terrorism" for almost four decades, with the initial designation dating to Iran's engineering of the 1983 bombing of U.S. Marine barracks in Beirut by Hezbollah. Similarly, the global banks who facilitate Iran's illegal purchasing of weaponry are considered sponsors of terrorism. The U.S. Anti-Terrorism Act ― and the parallel funding stream to compensate victims of terrorism ― was set up to punish these banks and groups like them.
The U.S. Victims of State Sponsored Terrorism Fund
Congress has created a fund to provide compensation to victims of state-sponsored terrorism. Service members who were wounded in terrorist attacks may be eligible to seek compensation from this fund, the United States Victims of State Sponsored Terrorism Fund. Potential claimants must prove the facts of their case by first obtaining a final judgment in U.S. district court against a state sponsor of terrorism.
Traumatic Brain Injuries the 'Silent' Injury of War
Traumatic brain injuries are one of the most prevalent injuries affecting U.S. troops. Unfortunately, they have typically been treated differently than injuries that are primarily physical in nature, like loss of limbs, shrapnel wounds, or sight loss. They are not always obvious even to the victim. Adrenaline rush can cloud the initial symptoms. They are the "silent" injuries of war.
Army SPC Kimo Keltz initially believed he had not been badly hurt in the attack on Al Asad Air Base. He had a bad headache from being jostled in the blast, but that was all. The next day, the headache felt like he had been run over by a truck. Keltz was diagnosed with traumatic brain injury.
Family Members May Have a Potential Claim
A legal provision called solatium allows direct family members – spouses, children, parents, sisters and brothers – to be eligible for compensation for mental anguish, bereavement, and grief associated with the death or injury of a family member.
Mental anguish, bereavement, and grief can be difficult concepts to define and quantify. Your attorney will ask about your reactions to the death or injury of your loved one along with the long-term effects on you.
You should consider how your loss has impacted your companionship, love, affection, care, protection, and guidance. The loss of or injuries to your loved one often can have lasting, devastating effects on family members who bear the pain and anguish of the loss, sometimes for years.
Your attorney will need your help in obtaining testimony and records to support a solatium claim. Evidence and statements from close friends, relatives, and medical professionals along with any associated records or correspondence will be helpful in building your case.
The court will determine whether family members qualify for solatium compensation and, if so, how to value such compensation.
Photo: F-35A Lightning II aircraft receive fuel from a KC-10 Extender from Travis Air Force Base, Calif., July 13, 2015, during a flight from England to the U.S. The fighters were returning to Luke AFB, Ariz., after participating in the world's largest air show, the Royal International Air Tattoo. (U.S. Air Force photo/Staff Sgt. Madelyn Brown)