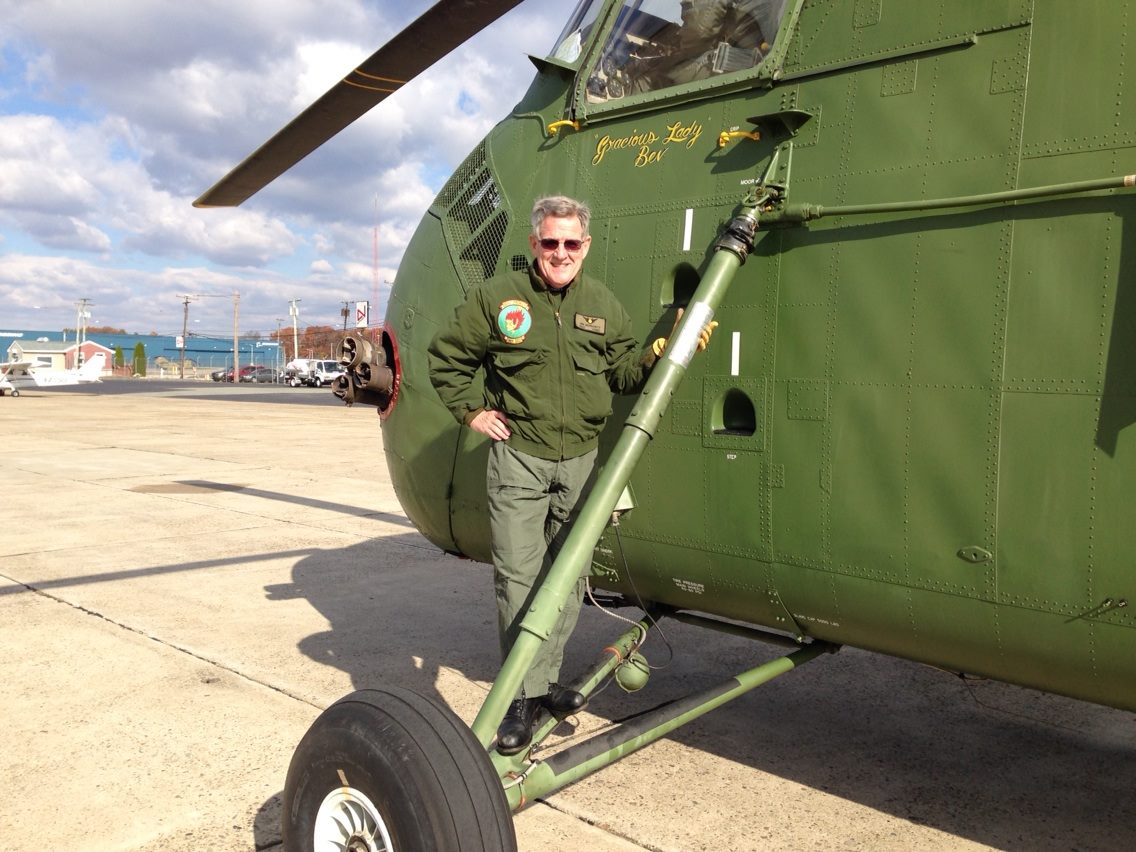 Moriarty enjoys restoring helicopters, like this Vietnam-era UH-34, which is now displayed at the National Museum of the Marine Corps.
Our team, along with a small group of other firms, successfully prosecuted the Khobar Towers bombing case on behalf of U.S. airmen and their families. We obtained an $879 million judgment in 2020. A judgment is a court order for one party to pay another.
A judgment is not the same thing as actual payment but is required before any payment can occur. Service members with potential claims stemming from the attack at Al Asad Air Base must obtain a judgment before seeking compensation from the U.S. Victims of State Sponsored Terrorism Fund.
Jim Moriarty is a former Marine, Vietnam combat veteran and Gold Star father who lost his son, SSG James F. Moriarty, in a terrorist attack abroad. Jim has served the military community throughout his four-decade career. In the 1990s, Jim took up the cause of Vietnam veterans who had been defamed by CNN. The network aired a story that alleged the soldiers had targeted civilians and American defectors with sarin nerve gas. Jim successfully represented three of the veterans who had been defamed, forced CNN to retract the story and financed a documentary to tell the story from the Special Forces' point of view. More recently, Jim ensured that one of those veterans, CPT Gary M. Rose, was appropriately recognized with the Medal of Honor in 2017. Jim represents military families in two lawsuits against privatized housing companies that allowed the families' military housing to become so mold-infested it sickened them.
Robert "Al" Broadbent is a former Special Advisor to the Secretary of Defense and a retired U.S. Army Judge Advocate. During his 23 year career as a judge advocate, he provided legal support to Special Operations Forces and the 82nd Airborne Division. He served on multiple deployments to Iraq and Afghanistan. He recently completed a National Security Fellowship at the Harvard Kennedy School focusing on U.S. policy options for Syria for the Director of Counterterrorism on the National Security Staff.
Sullo & Sullo is a full-service Houston-based law firm that has served more than 300,000 clients over the last decade. Sullo & Sullo has been listed #1 on Yelp's List of the Best 10 Lawyers in Houston since April of 2019. The firm has tried more than 1,000 cases and had more not guilty jury verdicts at Houston Municipal Court than any other law firm (2009-2014, 2017, 2018). Andrew Sullo is a recipient of the 2019 AVVO Client's Choice Award and is also a Member of the American Association of Justice (2013-2021).